Bhutan Visa Requirements
With the exception of visitors from India, Bangladesh and Maldives, all other visitors travelling to Bhutan need a visa.Indian, Bangladeshis and Maldivian nationals can obtain a permit at the port of entry on producing a valid passport with a minimum of 6 months validity (Indian nationals may also use their Voters Identity Card (VIC)). All other tourists must obtain a visa clearance prior the travel to Bhutan.  Visas are processed through an online system by us directly. You are required to send the photo-page of your passport to us and we will then apply for your visa.  The visa will be processed by the Tourism Council of Bhutan (TCB) once the full payment of your holiday (including a USD $40 visa fee) has been wire transferred Once received, the visa clearance will be processed within 72 working hours. At your point of entry you will be required to show your visa clearance letter, the visa will then be stamped into your passport.
How to get your Bhutan Visas?
It Is mandatory that all tourist other than India, Maldives and Bangladesh to obtain Visas before their arrival to Bhutan. Get in touch with a local tour operator such as Amedewa Tours and Trek and a full tour payment which includes visa fees must be made in advance in order to get your visas approved by the Immigration and Tourism Council of Bhutan. Upon approval of the visa, we will mail an E visa which can be shown at the check-in counter either at Paro International Airport or if entering by road from Gelephu, Samdrup Jonkhar or Phuntsholing and your actual visa will be stamp on passport at the counter upon arrival Bhutan.
E Visa Sample Image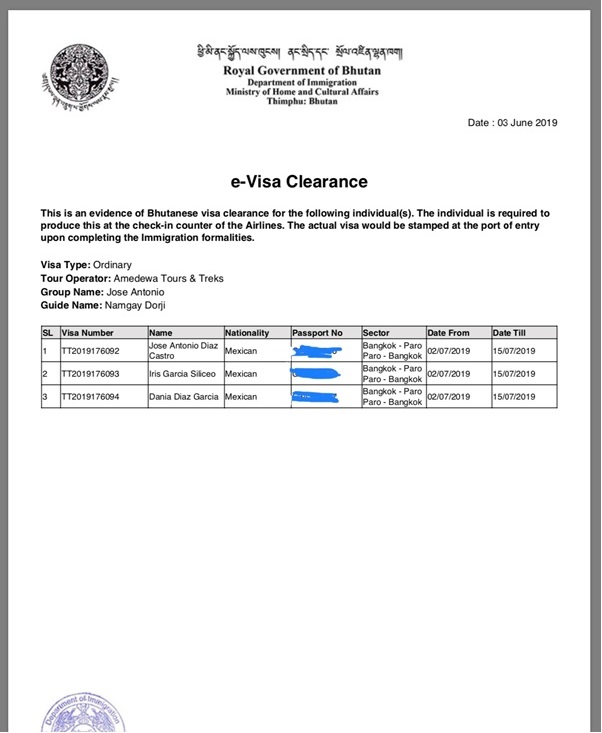 Document required

Email a clear scan copy of Passport having minimum 6 months validity to your Tour Operator in Bhutan.
How to Transfer Tour Payment to Bhutan?
To get your visas approved you must remit the tour payment in USD to the tour operator having beneficiary account of USD with Bhutan National Bank. To transfer the payment to Bhutan National Bank from any place outside India and Bhutan, please request your bank to remit through Bhutan National Bank Ltd, Correspondent Bank as follows .
Bank Address: Standard Chartered Bank Ltd (Correspondent Bank) One Madison Avenue, New York
NY 10010-3603
Swift Code: SCBLUS33
CHIPS ABA:0256
FED ABA: 026002561
Beneficiary Bank account: 358-202-171-9001 (USD A/C)
Beneficiary Bank: Bhutan National Bank, P.O BOX 439, GPO Building, Chang Lam, Thimphu Bhutan
Swift Code: BNBTBTBT
Beneficiary/Ultimate Beneficiary: Amedewa Tours and Trek maintained with BNBL (Bhutan National Bank limited)
After receiving the payment, it usually takes a week to get your visas approved which also includes the route permits and entry permits to Dzongs, Monasteries, Museums and other sightseeing spots mentioned in the itinerary.
FAQ